Shrink Sleeve Cans
Craft Beer Can Suppliers - Shrink Sleeve Cans
As the craft beverage market continues to boom, Kaufman Container has become a prominent supplier in the industry. From craft beer bottles and beer growlers, to shrink sleeve cans and printed aluminum cans, we can assist you with a variety of craft beverage containers.
We have recently seen a trend of customers opting for aluminum cans rather than the traditional glass beer bottles. Even more specifically, they are coming to Kaufman Container inquiring about 12 oz shrink sleeve cans and 16 oz shrink sleeve labeled cans. In this article, we will discuss what a shrink sleeve labeled can is, why it is appealing to companies and why Kaufman Container should be your #1 choice when it comes to craft beverage packaging.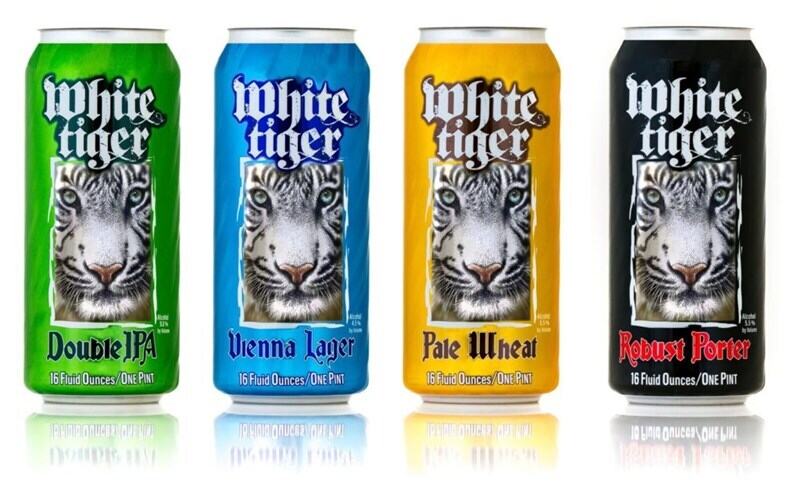 What is a Shrink Sleeve Labeled Can?
So before we go into why these shrink sleeve cans are becoming popular, we first need to understand what they are. A shrink sleeve can is simply a normal aluminum can (most commonly 12 or 16 oz) with a shrink sleeve label applied to it. Heat shrink labels have been around for years, but just recently have they exploded into the can market. Special equipment is required for the shrink sleeve application, so typically packaging companies like Kaufman Container will handle the application and send the end-customer pre-labeled cans.
Why Should I choose a Shrink Sleeve Can Over an Alternative Packaging Option?
We know there are countless options to package your craft beverage, so what is so appealing about a shrink sleeve can? Let's compare some popular packaging options to a shrink sleeve can:
Glass Beer Bottle vs. Shrink Sleeve Labeled Can: When compared to traditional glass beer bottles, aluminum cans are lighter, more affordable and are very convenient to ship. You don't have to worry about the cans breaking during shipment like glass bottles have the possibility to do. Our cans are also 100% recyclable and due to the lower carbon footprint, shrink sleeve cans are considered a very eco-friendly package.
Pressure-Sensitive (PS) Labeled Can vs. Shrink Sleeve Labeled Can:

The primary advantage of a shrink sleeve labeled can over a PS labeled can is the decoration. PS Labeled cans have a limited print area, which exposes the undecorated portions of the aluminum can. Shrink Sleeve labels allow for 360 degree coverage, which portrays a professional look and provides a large billboard for graphics and branding opportunities.
Printed Can vs. Shrink Sleeve Labeled Can:

Printed cans are great, they really are. However, the high minimum order requirements restrict who can consider them as a viable option. Most aluminum can manufacturers require truckload minimums per SKU, which is well over 150,000 cans. Even if the MOQ isn't a problem for you, storage space tends to become an issue. If you are a relatively new company, you most likely don't have the warehouse space available to store that amount of cans. Some large companies are able to meet these demands, but what about the small brewery launching a new summer ale? This is where shrink sleeve cans become a great option and only requires a minimum order quantity of 1/2 pallet (Around 4,000 cans). Shrink sleeve cans give you the flexibility to test the market, without a large capital investment and inventory confinement.
Now that we may have piqued your interest in shrink sleeve labeled cans, you need to understand why you should choose Kaufman Container as your supplier.

1.

Low Minimum Order Quantities:

As previously mentioned, we are able to fulfill orders of shrink labeled cans for as low as half a pallet. Most of our competition requires multiple pallets and tries to push you to a mixed truckload. The main reason we have the 1/2 pallet minimum is to encourage creativity and allow for new seasonal flavors that don't yet demand large volumes. It is also a great option for conservative companies who don't want to commit to a truckload without knowing the demand of their sku's.

2.

Short Lead Times:

Since aluminum cans are printed in-line by the manufacturer, lead times are known to fluctuate! By utilizing Kaufman Container as your shrink sleeve can provider, you can have your project completed in close to 5 weeks. These short lead times allow you to get the product on the shelves quicker, which in turn will increase your profit.

3.

Minimal Scrap:

Most suppliers will apply the shrink sleeve label and repack the cans the way they arrived. This leads to dented and damaged cans (higher % of scrap), which are unusable. Constantly being shorted cans raises your overall cost and creates way too many headaches. If desired, Kaufman Container can repack the cans in trays with side walls, which increases the security of these shrink sleeve cans for LTL shipments.

Kaufman Container is able to provide you with a complete turnkey solution. We can handle the sourcing, the shrink label design and the application. Whether you are a craft brewery looking to launch a new seasonal beer, or even a start-up iced coffee company, Kaufman Container will provide you with a winning solution.

Download Brochure Request a Quote

​