Customer Spotlight: Shiphouse Spirits
Mark Stanek

Shiphouse Spirits is a new distillery that was eager to make a big splash. The owner of the company, Bryan Kasper was determined to build a custom glass liquor bottle for his premium vodka. Instead of a typical round or square liquor bottle, Bryan's vision was to have the bottle replicate his house located in Put-N-Bay, OH. This home was once the forecastle of a cargo ship created for the Ford Motor Company and was named after Henry Ford's grandson. The Ship spent 50 years hauling iron ore, logs and coal around the Great Lakes. Once decommissioned, Bryan purchased it and made it into a home. Towering over the rocky cliffs of Put-N-Bay Island, the Shiphouse has breathtaking views of Lake Erie and has been featured on numerous TV shows including the Travel Channel & MTV's Cribs.
The design for the bottle started with just a photograph of this historic home. Working with our supplier in Poland, the end design was ultimately created, acrylic models were made, molds produced and production run in a rather impressive time frame. Despite the challenges due to the war in neighboring Ukraine, this extremely unique, custom embossed "Benson Ford" liquor bottle came to life. In addition, we supplied the wooden bar-top closure & a custom carton.
The unique design of this bottle is not the only thing that makes this bottle a must-have. The quality of vodka is top notch and Bryan believes this is the best vodka he has ever tasted. After dozens of formulation changes, Bryan and his team at Noble Cut Distillery settled on the perfect combination. Distilled 6x and filtered through activated charcoal 10x.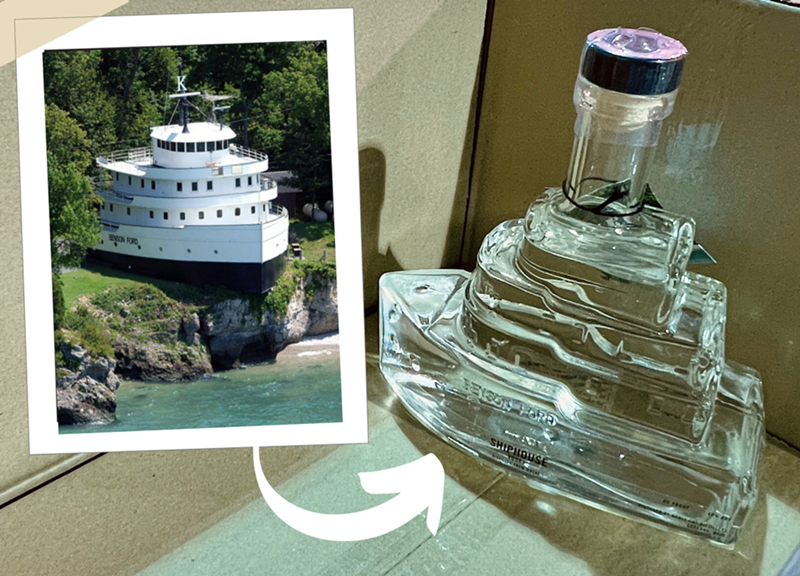 The Shiphouse has been a landmark and travel destination for years and they are optimistic their vodka can have a similar impact. In an ultra-competitive industry, Shiphouse has created a package that is a must-have and one that clearly stands out on store shelves.
Shiphouse Vodka is currently sold in various liquor stores throughout Ohio and you can shop here to find a location near you. Please follow Shiphouse Vodka on Instagram for future updates and visit their website.