Sauce, Spice & Everything Nice!
For over 100 years, Kaufman Container has been well-known as one of the leading food packaging companies in the North America. We supply both stock bottles and customized food packaging for numerous products including spice, sauces, condiments and much more. Operating as one of the premium food packaging manufacturers, we can provide glass food jars, plastic food containers and even eco friendly food packaging. In an effort to fulfill the needs of our customers, we have added several new items to our stock portfolio.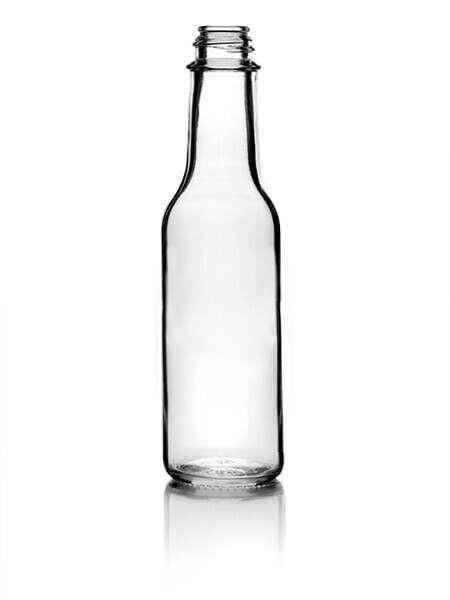 Our woozy bottles are one of the most popular glass sauce bottles in the food industry. These elegant 5 oz glass bottles are best known as hot sauce bottles or pepper sauce bottles, as they are primarily used for hot sauces, marinades and various dressings. The glass material allows the product to be filled at higher temperatures than a plastic food container would allow. In addition, the clear (flint) color allows the consumer to truly see the product. These woozy bottles are best paired with our stock 24-414 black plastic cap that includes a F217 liner. Both of these items are available and ready to ship.
16 oz Straight Sided Glass Jars w/ Lug Caps
Another item we recently added to our stock portfolio are these 16 oz straight sided glass jars. Although, they are frequently referred to as salsa jars, they can also be utilized for nut butters, jams, pickles and other condiments. The wide opening allows easy access for consumers to use a spoon or dispense, while the heavy duty glass material allows for high-fill temperatures. These 16 oz salsa jars are best paired with our black metal lug caps, but other colors can be provided upon request. In addition to food packaging, Kaufman Container can also provide food packaging design services. We offer several in-house decorating services including screen printing, shrink sleeve labeling and labeling. If you are interested in food packaging labels, we can help design and apply for a crisp finished product.
One of the larger glass jars we stock, these 24 oz glass jars are perfect for numerous bulk food products including pickles, sauces, condiments and more. Most of our customers utilize these 24 oz glass jars as pasta sauce jars and pair it with our 63 mm gold metal lug caps. The wide opening allows for easy dispensing and they are packed conveniently 12/case.
Spice Caps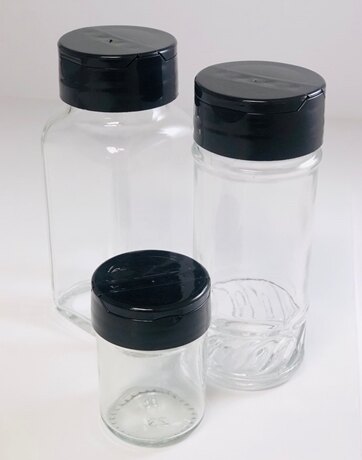 Kaufman Container stocks a variety of spice packaging including plastic spice jars, glass spice jars, spice grinders and these newly added spice caps. These black polypropylene spice caps are available in both 38-400 and 43-485 neck finishes. The dual flapper cap allows you to pour out the spices on one side or utilize the 3-hole sprinkler. The 38-400 spice caps are best paired with our 1.25 oz glass spice jar, while the 43-485 spice caps can be paired with our 2.5 oz glass spice jar or our 6 oz square glass jar. All of these items are now stock available and can be sold for low quantities.