3 Keys to Differentiate your Packaging
Mark Stanek
Written by: Mark Stanek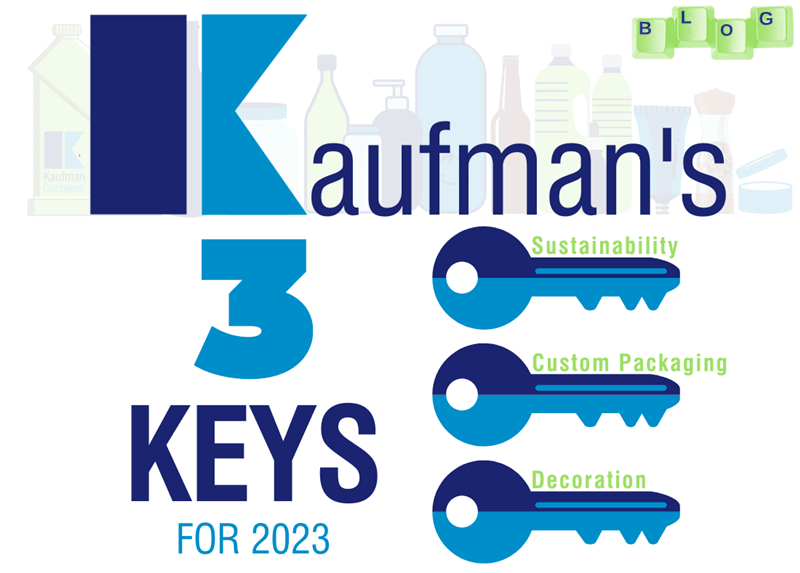 As we head into the second month of 2023, we wanted to share three reoccurring themes that surfaced during our annual sales meeting. All three are important areas of focus and for Kaufman Container and can help our customers differentiate themselves in the marketplace. The three keys are: Sustainability, Custom Packaging and Decoration and we will expand on each throughout this article.
Sustainability
A buzzword for the last few years has been and will continue to be sustainability. Companies around the world are creating sustainability programs and searching for packaging that aligns with their goals. Kaufman Container makes it a priority to educate and supply our customers with eco-friendly packaging components. To do this, we partner with vendors who have sustainability programs in place and offer a wide variety of sustainable packaging including post-consumer-resin, sugarcane, ocean-bound plastics, compostable shrink bands and much more. We can also explore "light-weighting" an existing package you purchase to reduce the amount of resin used and decrease shipping costs. This lowers the overall carbon footprint and while maintaining your same packaging performance.
An additional reason to re-think your sustainability strategy is that major outlets such as Target are highlighting brands who are becoming more sustainable. Target's new "Target Zero" program is a new initiative that responds to consumers' demand to purchase more products from sustainable brands. "Our aim with Target Zero is to keep delivering on their needs through our ever-evolving product assortment, as well as to give brands investing in reduced waste products and packaging an opportunity to have those products highlighted by Target." As more and more retailers follow in the footsteps of Target, this is an excellent opportunity to gain a competitive edge in the marketplace.
Custom Packaging
Designing and building a custom mold can be an intimidating process, but it doesn't have to be. Kaufman Container has over 113 years of experience in packaging design and development. We have built custom molds in both glass and various plastic materials including HDPE and PET. Even if you only have an idea or a drawing on a napkin, we can help take your vision and make it a reality. On a recent project, we designed and built a custom glass liquor bottle from a single photograph. We can walk you through the entire project from drawings to CAD models to the first production run.
Why blend in, when we can help you STAND OUT? While most of your competition will remain in a stock bottle from a manufacturer, we can help build something completely custom that will be sure to draw attention.
In addition to building brand-new custom molds, we also have a library of over 70 existing Kaufman Container custom molds. Our selection of glass and plastic containers are molds that we own and can offer to anyone. The major advantage of going this route is since we have already built the mold, there is no mold cost. You still receive a unique custom package while staying budget friendly.
Decoration
Our 3rd key for 2023 involves container decoration. In a survey conducted in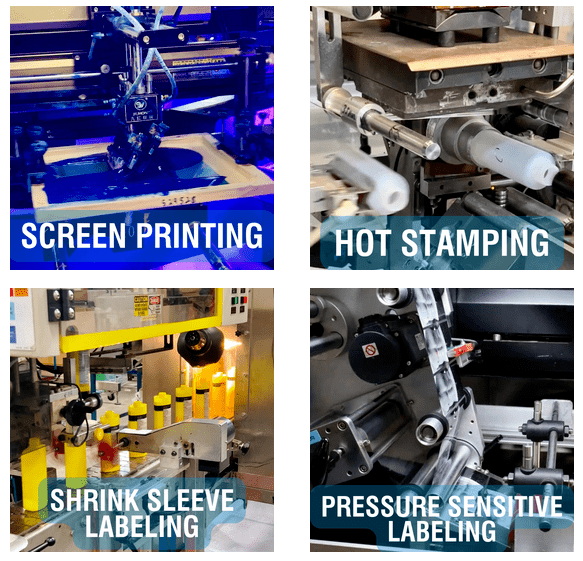 2022, "61% said they are more likely to buy a luxury product more than once if it comes in premium-looking packaging". Utilizing our decorating services is an excellent opportunity to accomplish this feat. We operate a full-service decorating facility capable of silkscreen printing, hot stamping, shrink sleeve labeling and pressure sensitive labeling. For most projects, we can decorate as little as 5,000 pieces with very reasonable lead times. Whether we are supplying the packaging, or if you solely want us to decorate your containers you have purchased elsewhere, we are happy to assist.
You already know the impact the appearance of your packaging can have on store shelves, but what about the major impact social media can have? With so many influencers using platforms such as TikTok, Instagram and Facebook, having attractive and upscale looking packaging can make your product go viral. Any additional impressions can lead to huge spikes in brand awareness and increased sales.
Next Steps
We hope Kaufman's three Keys for 2023 has sparked some interest and some internal conversations. All three keys are potential opportunities for you to take your packaging to the next level and Kaufman Container would love to be included. If you are interested in learning more, please contact us or schedule a virtual meeting.

Schedule a Virtual Meeting Email Us

Sources:

https://corporate.target.com/press/releases/2022/03/target-announces-target-zero-a-new-curated-collect

https://enterpriseleague.com/blog/important-statistics-you-shoul​d-know-about-packaging-design/

​