Sustainable Packaging Solutions
Mark Stanek
We will be discussing some of the laws and regulations for packaging and the sustainable packaging solutions we have available.
Last month, our sustainability blog was centered around consumer behavior and why sustainability is important. This month, we will be going a little deeper discussing some of the laws and regulations around packaging and the extensive offering of sustainable packaging we have available.
Why does Kaufman Container promote Sustainability?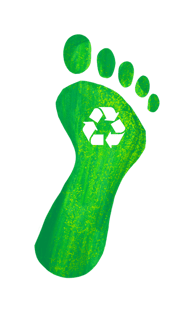 Besides having the "It's the right thing to do" mentality, we are strongly pushing sustainable packaging because….that's what our customers are requesting. You are bringing new projects to us and are interested in learning how to become more sustainable. As we will discuss later in this blog, there are plenty of different ways to accomplish this, but it all starts with your company's motive.
The Younger Generation values Sustainability
"Did you know that 67% of buyers find it important that their purchases are in recyclable packaging? A study shows that 54% of consumers ages 44 and under consider sustainable packaging when purchasing a product. Within that age group, 83% have said they're willing to pay more for products sustainably packaged".
This was a statistic we shared during our last blog: Buying Behaviors & Customer Concerns with Sustainable Packaging, but it deserves repeating. Millennials and Generation Z not only have a strong interest in "green packaging" but are also willing to pay a premium for it. This should help ease any concern when deciding if sustainable packaging is worth the investment. Yes, eco-friendly packaging tends to be slightly more expensive, but you can also use greener packaging to help justify a higher price point.
Sustainability Laws & Regulations:
In recent years, states have started to require packaging to include a percentage of PCR. As of today, the five states are California, Connecticut, Maine, New Jersey and Washington but more and more states will begin to follow suit. Instead of waiting until your state changes the regulations, now is the time to get ahead and begin implementing PCR into your packaging components.
Sustainable Packaging Options
As you already know, there are an abundance of sustainable packaging options available. While almost all of them have compelling reasons of what makes them sustainable, the "right one" depends on your needs. If it's something as simple as being 100% recyclable, you will have plenty of options to choose from. However, the reason behind a company choosing ocean-bound plastics is vastly different than a company choosing PCR. There is usually a deeper belief or stance by the company, and they want their packaging to reflect that. Kaufman Container is here to help guide you on the packaging that will be the best fit for your brand.
Post-Consumer Resin: Mostly referred to as PCR, post-consumer-resin is plastic that has already been recycled and is repurposed to be used again. This reduces waste and lowers the carbon footprint by requiring fewer emissions than virgin plastics. PET, Polypropylene and HDPE plastic can all be produced with PCR and typical percentages range from 25% to 100% PCR. The higher percentage of PCR used, the more positive impact it has on the environment. Our post-consumer-resin meets all FDA standards and is safe for food products. It also goes through the same quality testing as our virgin resin bottles, so there will be no drop in quality.
Concerns with PCR: There are a few drawbacks to using PCR such as discoloration or "carbon flecks" in the packaging. When using PCR, it is advised to use darker colors primarily Black to hide any imperfections. The other potential issue is color matching your existing bottle to include PCR. When running high percentages of PCR, it is very difficult to keep a consistent color and each batch may slightly vary. However, using lower percentages of PCR (25%-50%) helps avoid this. The other solution we can provide is running the bottle in multi-layer and sandwiching PCR in the middle of a tri-layer bottle. This way, the package still has the desired PCR content, but it will have no impact on the aesthetic of the package.
Bio-Based Resins: While still an intriguing option, sugarcane plastic bottles and tubes hit their peak just prior to the pandemic. The bio-based HPDE resin is 100% recyclable and is produced by using a bio-oil derived from sugarcane rather than the traditional fossil fuel-based oil. While marketers love to promote this style of packaging, there is still a misconception in the industry. Contrary to popular belief, the sugarcane resin is not biodegradable, so it will not break down any quicker than any other plastic bottle. They hold the same characteristics as standard HDPE and are recycled in the same existing waste streams. Another factor to consider when choosing this style of eco-friendly packaging is the supply chain. While most manufacturers can run sugarcane resin, there continues to be a shortage, which can make it difficult to secure.
Ocean Bound Plastics: Another trendy sustainable packaging option is ocean-bound plastics. Like sugarcane, there is a lot of confusion about what ocean-bound plastics is. The keyword here is bound. These bottles are found within 30 miles of an ocean coastline or waterway that feeds into the ocean and NOT picked directly from the ocean. Companies who have a mission to keep the oceans clean and free of plastic are perfect candidates for ocean-bound plastics. Keep in mind however, that there is a smaller amount of ocean-bound plastics available compared to standard or PCR resin, so it is a more difficult option to supply.
Glass or Aluminum: While we do believe plastic is a great sustainable packaging solution, there is a lot of bad press about plastic and several companies refuse to use it. Instead, they opt for glass or aluminum packaging. Both have become popular especially due to "Loop". Loop is a program that allows customers to buy products in reusable and refillable containers that they can return when empty. This has become a staple for numerous applications including cleaning products and beauty products. Since both glass and aluminum are 100% recyclable, both can be used if your goal is to stay #plasticfree.
Lightweighting: If you have concerns about making major changes to your packaging, lightweighting is a viable solution. Lightweighting is the process of reducing the size, weight or thickness of the container or cap without sacrificing quality. That's right… you can use less plastic and still achieve the same high-quality package. Lower shipping costs is another benefit of lightweighting.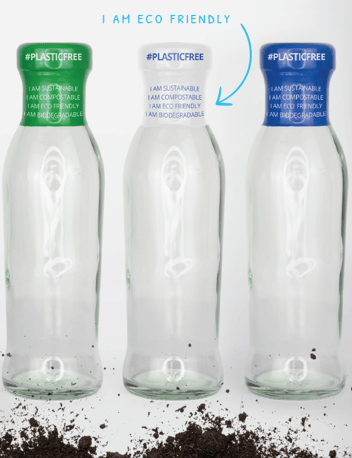 Sustainable Shrink Bands: In addition to rigid packaging, we also supply eco-friendly shrink bands. These shrink bands are made in the UK from wood pulp taken from renewable sources that is extruded into tubing and then cut into bands. Since cellulose is a natural plant-based material, it doesn't require heat to shrink onto your product. Simply apply and let it dry. With the addition of these shrink bands, your entire package can be considered sustainable!
What about biodegradable packaging?
Unfortunately, there has not been a breakthrough when it comes to biodegradable bottles and jars. There are some containers on the market that claim to be biodegradable, but the additives can contaminate the recycling stream. Currently, Kaufman does not have any biodegradable packaging solutions that are approved to supply.
What next?
As we learned in this blog, states are starting to implement laws and regulations to improve the environment. We also learned that sustainability is important to the younger generation, and it can be an excellent opportunity for you to appeal to that age demographic, while increasing sales. There are countless number of sustainable packaging options to choose from and it's completely normal to not have all the answers. Any of these options are considered sustainable but the best option for your brand comes down to preference. If you are interested in learning more or would like to work with us on a project, please contact us or schedule a meeting below.